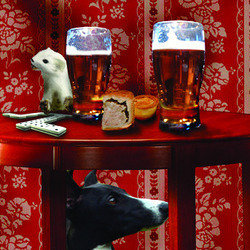 Luke Benson & David Hardcastle bring their Working Men's Club to Edinburgh for the month of August.
 
Comedy, variety, music & occasionally bawdy belly-laugh inducing fun.
 
With the trident of Darts, bingo and a meat raffle. Benson and Hardcastle bring the party to you.
Ladies and whippets welcome. Southerners tolerated.
Top guests are a guarantee.
Here are some other quotes;
"Do you work on making it work whilst being so shambolic?" – Emily Gough: co-creator of Setlist
"No" – Benson & Hardcastle
Here is a list of people we've had perform in our various guises:
Tony Law, Wil Franken, Tom Allen, Mike McCabe, Quint Fontana, Rob Beckett, Dan Antopolski, Josh Widdicombe, Bob & Jim, Rayguns Looks Real Enough, Brett Goldstein, Scott Capurro, Earl Okin, Jim Campbell, Misty Moores, Rebekkah Bowing, Tommy Rowson, Christian Lee, Sol Bernstein, Kenny Anderson, Darren Walsh, Toby Brown, Holly Burn, the late Tony Tinman, Kishore Nayar, Joel Dommett, Ellie Taylor, Jess Fostekew, Rachel Stubbings, Frank Sanazi, Bec Hill, Matthew Highton, Gerry Howell, Elf-Lyons, Andrea Hubert, Kai Humphries, Grainne Maguire, Kelly Kingham, Bobby Stardust, Leads & Stern, Mark Restuccia, John-Luke Roberts, Lou Sanders, Ben Target, Paul F Taylor, Tom Toal, Ben Van Der Velde, Max Dowler, Paul McCaffrey, Matt Highton, Brian Damage & Krystal, Mick Ferry, Mike Newall, Rachel Parris, Lloyd Griffith, Alexa Mason, Dog-Eared Collective & some absolute shite)
You can get in touch with the club here…
Email: properwmc@gmail.com
Twitter: @properwmc
Facebook fan page: https://www.facebook.com/pages/Working-Mens-Club/179194518789291
Photos