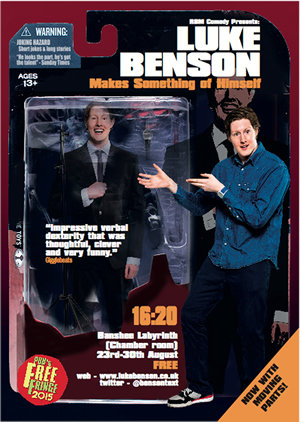 Greetings,
Please come in…to my website.
It includes all that I would think relevant & arguably somethings that aren't.
Including a bio, photos, information on solo shows, a gig list & even some videos of me doing jokes & other bits for your enjoyment/wellbeing.
I'll also put news out through here – I do a radio show, a podcast relating to the mighty/dismal Newcastle United, a blog & there's the small matter of the yearly solo show & the mighty Working Men's Club.
This years show is called "Luke Benson's Big Night Out (in the afternoon)". There are tickets for previews available here. It's going to be great.
The show last year was Luke Benson: Makes Something of Himself.
Here is a review – http://www.gigglebeats.co.uk/2014/08/edinburgh-fringe-review-luke-benson/
Enjoy & please join the mailing list (you will never be bombarded).
Benson