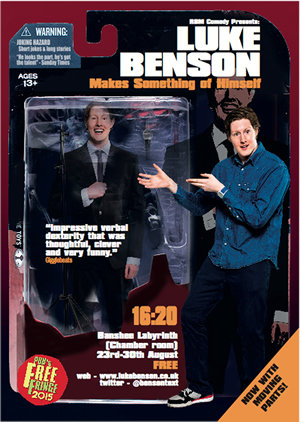 Greetings,
Please come in…to my website.
It includes all that I would think relevant & arguably somethings that aren't.
Including a bio, photos, information on solo shows, a gig list & even some videos of me doing jokes & other bits for your enjoyment/wellbeing.
I'll also put news out through here – I do a radio show, a podcast relating to the mighty/dismal Newcastle United, a blog & there's the small matter of the yearly solo show & the mighty Working Men's Club.
This years show is called "Luke Benson's Big Night Out (in the afternoon)". There are tickets for previews available here. It's on every day (6th-28th at 16:20) Banshee Labyrinth on Niddry St. It's free. Get there 15 minutes early to get a seat and a drink.
I'm also hosting a lineup show at Bourbon Bar at 21:00. That should be a lot of fun also.
(Both shows are free in, with a collection for your tenners).
The show last year was Luke Benson: Makes Something of Himself.
Here is a review – http://www.gigglebeats.co.uk/2014/08/edinburgh-fringe-review-luke-benson/
Enjoy & please join the mailing list (you will never be bombarded).
Benson